We are mostly interested in the scholarly and art books described on the main page–however we are quite general (we even buy CD's, DVD's and ephemera) and will always refer you to an alternative place if we cannot help you.  Please feel free to call when you are with the books so that you can best describe the library.  YOU CAN ALWAYS SEND PHOTOS OF THE BOOKS (SPINES) TO OUR EMAIL:  eastvillagebooksny@aol.com   Take pictures of the spines close enough for us to read the titles.  If there are too many books you can send us a representative selection of photos.  In the alternative you can send us a list of titles.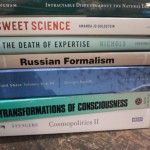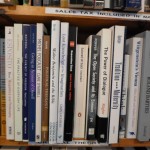 For college textbooks, law books, technical books, click here.
After we receive your photos and determine that the books are right for us you can bring them to the store during open hours.  Parking is usually available in the neighborhood.  If you drive up we can help you inside and direct you to parking (If on the weekend call before leaving home, and we will tell you how to drive to our front door in spite of the open street restaurant activity.)  In the event that your library is too large we can come to your residence to take a look.  However we would need pictures (preferably), or an accurate description of the books, best made by phone when you are there with the library.
We have a donation program which is multifaceted.  From the sale of donated books we support all legitimate non-profits that ask us for money.  We also have a homeless donation program where the books that we cannot sell are directed to the people selling on the street.  There are some books that we would not accept because there would be no outlet for them.
eastvillagebooksny@aol.com