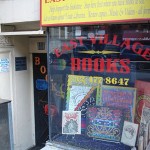 We are open every day 1:00 till 9:45 (Sundays till 9).  We buy books every day as we have for 30 years. The procedure is as follows:
TO SELL YOUR BOOKS: Mobile phones click on the dropdown menu above (from a PC or Mac computer, click on the menu to the left)

 

Feel free to call for assistance regarding a large quantity of books.
East Village Books is a cash only, bring your own bags used bookstore in Manhattan, New York City.  We sell and BUY books, including art and photography books, textbooks (buyback), philosophy, mathematics, religion, occult, esoterica, new age, counter-culture, left/radical, critical theory, music, literary fiction, Greek and Latin–actually any scholarly subject, theological studies, review copies, underground comics/graphic novels, recent law books, technical books in such subjects as finance, theoretical and applied science, recent software.  Estate libraries are our specialty.  We do not purchase genre books (i.e. best-sellers), outdated textbooks, children or young adult books, pop psychology/business books (unless they are new releases), most self-help books, coffee table books (unless they are art or photography book monographs), test prep books. We also buy CD's and DVD's, except for pop music or mainstream movies.  We purchase CD's and DVD's only in quantities (by the boxful).
Cash paid, of course, and you may bring books to our store after contacting us (we will help you in and direct you to parking if needed). If the quantity is large we will come to you. Thank you for calling us first. To contact a buyer regarding a large quantity of books before we open click here                                                                                       
We also sell used postcards.
We also sell many pictures suitable for framing.
Where is the best place in New York City to sell books or textbooks?
What is the best way to support your local used bookstore?
Donations of books are definitely welcome. We have a fund for non-profits that we replenish from the sale of books that have been donated to us.
Find us at 99 Saint Marks Place (subway stops) between Avenue A and First Avenue, Monday thru Saturday from 1 P.M. till 10 PM; Sunday from 1 PM till 9.
phone: (212) 477-8647 | email: eastvillagebooksny@aol.com | before hours book buyer: here
You can find the best things in used books.  To see an actual copy of a previously unseen document (in French or in translation) written by Henri Cartier Bresson, click on the photo below.  This was found in a book by Bresson previously owned by a producer at NBC.