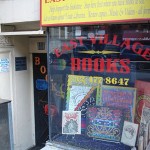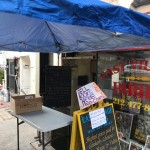 We are open and still buying books
We buy books every day of the week in front of the store 1 PM till dusk.  On Thursdays, Fridays and Saturdays, you may enter the store and shop 1 PM till dusk.   We have instituted time and occupancy limits in our store consistent with the CDC recommendation.  Further, you will not be permitted to enter if you have any symptoms.  We clean all surfaces as recommended.  If you do not wish to stand 6 feet from other persons do not enter.  We are open due to the following exemption from the mandatory closing order:   "Any business that only has a single occupant/employee has been deemed exempt and need not submit a request to be designated as an essential business."   There may be some variation in the schedule.  It is better to check this website and best to call in advance (212) 477-8647
East Village Books is a used bookstore in Manhattan, New York City.  We sell and BUY books, including art and photography books, textbooks (buyback), philosophy, mathematics, religion, occult, esoterica, new age, counter-culture, critical theory, music, literary fiction, Greek and Latin–actually any scholarly subject, review copies, underground comics/graphic novels, recent law books.  Estate libraries are our specialty.  We also buy CD's and DVD's, except for pop music or mainstream movies.
Sell to us first for the highest prices. We buy used books at our store whenever we are open. During store hours call (212) 477-8647 or (212) 477-8648. To contact a buyer before we open click here.  Our email address is eastvillagebooksny@aol.com.  See instructions to the left for how to sell us books and textbooks/CD's/DVD's and estate libraries utilizing our email.
Cash paid, of course, and you may bring books to our store (we will help you in and direct you to parking if needed). If the quantity is large we will come to you. Thank you for calling us first.
Where is the best place in New York City to sell books or textbooks?
What is the best way to support your local used bookstore?
Donations of books are definitely welcome. We have a fund for non-profits that we replenish from the sale of books that have been donated to us.
Find us at 99 Saint Marks Place (subway stops) between Avenue A and First Avenue, Monday thru Friday from 1 P.M. till 11 P.M.*; Saturday from 1 PM till late (at least 11 P.M., sometimes midnite); Sunday from 1 P.M. till 9.
*We are now open many days from noon until midnight. Call to make sure if you are coming in before 1pm or after 11pm.
phone: (212) 477-8647 | email: eastvillagebooksny@aol.com | before hours book buyer: here
You can find the best things in used books.  To see an actual copy of a previously unseen document (in French or in translation) written by Henri Cartier Bresson, click on the photo below.  This was found in a book by Bresson previously owned by a producer at NBC.